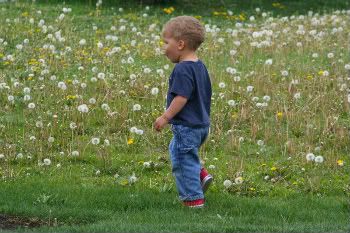 I have a thing for little boy necks and little boy shoulders. Actually I have a thing for MAN necks and MAN shoulders (well, ONE man neck and ONE pair of man shoulders, as I have narrowed down the selection over the years!), but lately I've been drawn to Peabody's pint-size version of these features. And although I sometimes can't resist a nibble or two, mostly I'm content to study the perky curve of his neck and the sturdy, straight line of his shoulders and smile to myself at God's mastery at drawing my tiny son.
And as I watch him, playing, sleeping, curled in my lap, I wonder what he'll be like at 6, or 16, or 46. Will his tripping toddler trot be replaced with a quick athletic stride or the slow, even gait of an intellectual in deep thought? When he puts down his cars, will he pick up a bat, a book, a paintbrush, a guitar or a pen? Will my laundry, finally bereft of white onesies and strawberry-stained bibs, spill-over with sweaty jerseys, dirty-kneed jeans or khakis and sweater vests?
When he no longer rests his head on my shoulder, who will rest a head on his? Whose tears will he wipe away with his warm hands, and whose giggle will send his heart soaring as his does mine? Will he always smile abashedly and drop his eyelashes low when he makes someone laugh? Where will he choose to live and work out his life when I'm no longer his home? Will he be his own man, exactly as he is now his own boy?
I wonder with excitement and hope and sometimes I feel I'm being weak or naive to be full of hope in a world so full of dark otherwise that I can neither predict or prevent. But to look at a boy like this, so sure of everything about himself and possessed of such undeniable charm, and cast my own doubts over him seems to deny the obvious.
Of course. He'll be amazing. Just as he is now.
Megan also blogs at FriedOkra.