5 Minutes for Parenting's weekly column, A Dose of Humor, is here to remind you to take your humor pill regularly as the best medicine to treat the side effects of parenting! It features a different blogger every week and is hosted by Rachel at Grasping for Objectivity in My Subjective Life. Now you can also join in by linking in your funniest moment of the week in the comments of this post!!
Rosana Vollmerhausen is a freelance writer, a semi-delusional mommy, a consumer and former purveyor of all things fashion, and most recently, a wannabe Iron Girl. Her favorite past-time these days is shakin' her groove thang in the kitchen with her husband after the kids have gone to bed. Must know more? She also blogs. Drop in and visit her anytime on Chronicles of Momnia.
Got the kid off the bottle…during the day. No small feat, but not nearly as painful as I thought it would be. We still got the before-bed one to deal with, but I'm not done patting myself on the back yet for conquering the day one.
Fast-forward to this morning, which we spent at the park. Wore the kids out running climbing, running, jumping. Even did two (yes, two) rounds on the carousel. J gets thirsty and so I give him my water bottle, not even thinking what I was doing. We picnic lunch it and I start to notice how affectionately he is handling his new grey, rounded-spout, almost rubber nipple-shaped buddy.
"Jack really likes his new bottle," M declares.
"SSHHHHHH!" I hiss at her as if saying it out loud somehow makes what is happening before my eyes more…real.I continue to observe him skeptically. He bites the spout, sucks on it and confirms my worst fear. "BAAAAAA!!!" he screams with glee. "BAAA! BAAA! BAAAA!"
Shoot me. Don't even tell me this kid, in five minutes flat, has fallen for my running water bottle.
"Mommy needs a drink," I say as I cautiously approach him, bracing myself for the worst possible reaction. I reach out and…"BAAAAAA! NO! BAAAAA!"
Shoot me again. On top of it, I am legitimately thirsty now.
"He can't really be attached to that thing," I say to myself. "He's probably teething again and chewing on the top for some relief." Never mind that the kid already has his molars.
I manage to get my hands on the bottle for a second, quickly unscrew the top and hand it back to him before his little head explodes. Aaaaah. Water.
He continues to chew on the top as I pack both kids into the car to head home. He's quiet and I'm smiling. (As a parent of young children, you learn really quick that if they are being quiet and what they're doing isn't going to result in death or serious injury, don't muck it up by wondering why. Just enjoy it.) I drive about two minutes when I glance in the rear view mirror to find this: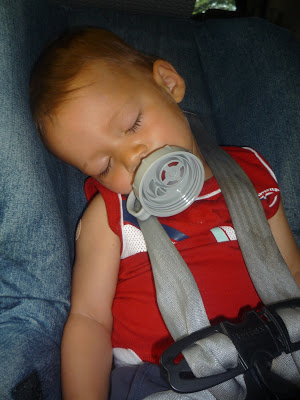 I've seen it all now. Stay tuned for next post: "Lessons on Weaning Your Toddler Off a Water Bottle Top."
This post was originally published on July 13, 2009 at Chronicles of Momnia.
If you would like to be considered to be featured in A Dose of Humor, email Rachel at doseofhumor (at) gmail (dot) com.
Join us and link up your funniest moment of the week in the comments below!!!