By Beck
This is a reprint of my Valentine's Day post from last year and it's one of my very favorite things I've ever written. Do you still have living grandparents? Between the two of us, my husband and I have three – two grandmothers and a grandfather – and our relationships with them are now almost unbearably poignant, since never is the inevitable end of everything more obvious than when you are with someone very, very old and very very beloved.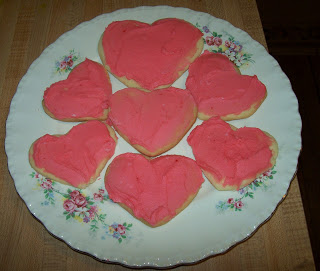 I told you I was awful at frosting.
My grandmother gave me her good dishes right after Christmas, the ones my grandfather bought for her while they were dating. "I'm never going to give a big dinner again," she said.
The Boy was up most of the night, awake and coughing. His dad got up with him, rubbed Vicks on his chest, gave him medicine, sat up with him for hours and then went groggily off to work. The Boy was surprisingly chipper when he got up and insisted that he needed to go to school, his mouth full of pink frosted sugar cookie. He rubbed the edge of the fancy plate, admiring the faded roses. "That's really pretty," he said, and then grabbed his bookbag and dashed off to school waving goodbye before he got into my mother's car.
My grandfather died less then three months after The Boy was born, but I think he'd have liked him, my earnest, kind-hearted Boy. I can picture the two of them solemnly going to the barn together to feed the cats, my Boy talking endlessly, my grandfather straight-backed and handsome. It's been nearly six years now, and my grandmother lives alone in the large house my grandfather built for her and life is very long.
I was the only one awake in the whole house for a while last night – unless you count the cats tearing around downstairs, the morons – staring into the pale near-darkness. I did my usual sleepless prayer, listing off this long list of people I worry about, things that I fret over, my wishes, and then, my husband's sleeping hand on my hair, I added my last wish. Let me go first, I whispered into the darkness. Don't make me live a day without him.