By Sarah Fader
I was having contractions last night, and (just for fun) I asked Ari:
"Ari, is the baby coming now?"
He replied: "No. In two hours."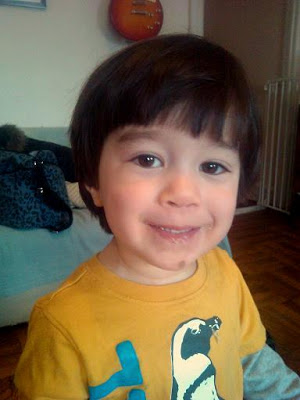 This alarmed me so much that even though I've been on a good streak with regard to getting Ari to bed at a reasonable hour, I was so freaked out that I allowed him to stay up an extra two hours (watching Disney's Robin Hood) to make sure his oracle-like prediction didn't come true.
Thank goodness, he was wrong. The baby is still happily in my uterus.
Sarah Fader records anecdotes from her daily life at at Old School New School Mom. She also currently runs blog workshops for elementary school children in New York City and provides freelance transcription services for major television networks, in between running after a two year old.