By Sarah Fader
I was out to lunch with Ari today in my neighborhood. I was standing at the cash register at this sandwich shop, when a woman gasped as she looked down at my feet.
"Your shoe is untied!" She said in horrified voice. "Do you want me to tie it for you? I mean, you're pregnant!"
It only took me a second to reply:
"Yes! Thank you so much!"
With that, she bent down, tied my shoe and then paused.
"Do you want me to double knot it?"
"That would be great!" I said stifling a laugh as she saved the day.
In fact, her handy work is still in place.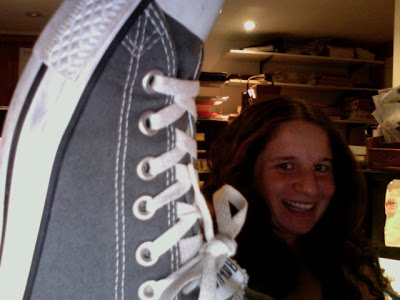 Sarah Fader records anecdotes from her daily life at at Old School New School Mom. She also currently runs blog workshops for elementary school children in New York City and provides freelance transcription services for major television networks, in between running after a two year old.