By Sarah
World Breastfeeding Week is on. This year's theme is Just 10 Steps, which is about the 10 steps to ensure breastfeeding success for health care professionals and parents.There are a lot of good resources available and, if you haven't read it yet, there are 101 good reasons to breastfeed.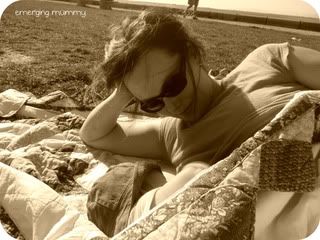 Joseph breastfeeding at the beach, 2009.
No guilt. No finger-pointing. No "why don't you?" or "why didn't you?" Not even any stats or figures. My heart isn't to shame or blame or bring more heartache to anyone. I know my experience is not your experience.
But let me give honour to how breastfeeding changed me, to the joy it has brought to my life.

Breastfeeding gave me confidence as a mother. When I first held my tinies, when their newborn mouths first latched on and they lolled back, milk-drunk, blissed out, I thought I was born for this. Nothing made me feel more powerful, more like their mother than holding them, skin-on-skin, and nourishing their bodies and souls. No one else could feed them but me – not a parenting professional, not a nurse, not another mother, not even my mother (my hero) could do what I was doing. Every feeding gave me confidence. And that feeling of confidence has carried over to parenting them, even though they are no longer nursing.
Breastfeeding made parenting easier for me. There were no bottles to sterilize in the middle of the night. No feeding paraphernalia or special scrub brushes. No formula to purchase (especially the expensive stuff). There wasn't any stress about whether or not they were getting enough to eat. I didn't worry about their tummies being sore or about gas. I never had a heavy diaper bag. I didn't worry about the milk spoiling in the heat or finding a microwave to warm the milk up if we were running around. I always had the containers, always at the right temperature and at the right price. So it made life easy. It was one less thing to worry about for me.
Preparing for breastfeeding and having knowledgeable support helped me to enjoy the early days. If I hadn't had someone that knew what they were doing or good books like La Leche League's "The Womanly Art of Breastfeeding" or Dr. Sears' "The Breastfeeding Book" to turn to to figure it out, this might not have been the case. But I had my mother (one of the original lactivists) and a lot of boob-education, so we relaxed. We knew what we were doing and so I just got to enjoy my babies, enjoy feeding them. We didn't have colic or ear infections, no challenges in feeding or latch, no pain even. I have friends that could break your heart with the difficult time they had, particularly in the early days. But I was given the gift of support and education so I easily nursed which was not only helpful physically but even emotionally as I recovered. Also, breastfeeding meant that when they cried or were grouchy or tired, I knew just what to do. There was hardly ever a time that nursing didn't fix whatever was wrong – in both of us.


Breastfeeding helped me to slow down and be present in the moment. There is no rushing pregnancy (as I unfortunately learned when I went 8 days overdue with my youngest!). And there is no rushing a baby that wants to get to the good stuff at the last. We did not schedule feedings or limit them for time. So if they wanted to nurse for 30 minutes, we nursed for 30 minutes. If it was 10 minutes or if it was a marathon during a growth spurt (thank you, Jesus, for co-sleeping at those times!), I had to be there. I had to sit, several times a day and even night to hold them close. Me, the one that rushed here and there, always something to do, with a prairie-kid mentality of idle hands being open for mischief, was now loving being here, studying every eyelash, every move, every change. I didn't miss a moment and learned to be fully there.


Breastfeeding nourished me spiritually. It was my time to pray over my children, to meditate on Scripture, to rest in the presence of God, to see breastfeeding as part of my worship. I remember reading that verse about how "our souls are like a nursing child before the Lord." I read it the same day I was holding Anne, her body completely relaxed. It was almost like she didn't have a bone in her body. Her tummy was full, her eyes were closed, she was so incredibly satisfied. And I thought, "Just like that. That's how God wants my soul to feel – that peace, that contentment, that fullness, that security."
I loved exclusively nursing both of my tinies. Both of them weaned themselves (before I was ready!). They are secure, attached children with incredible independence and love.
Breastfedding was a tremendous gift to give my children. I knew that going in.
But I didn't have a clue how much it would transform me as well.
This post originally appeared on Sarah's blog, Emerging Mummy.