By Beck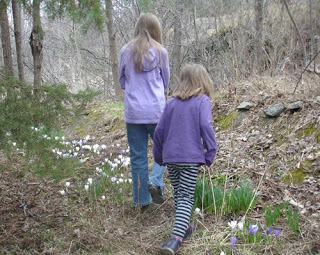 The flowers are coming back – mostly crocuses right now, which I forget about every year until April and then they take the very breath from me with their beauty which looks so breakable and yet thrives through snow and neglect.
I do not garden.
Occasionally I will plant SOMETHING that I think is cute and then ignore it until it dies. And I sometimes remember to half-heartedly throw a few bulbs in the ground in the fall, but other than that, I never garden and yet I LOVE flowers and they grow all up around my yard from April until the killing colds of October with no help from me.
Someone used to garden here.
When we moved in, older people would say to us "Oh, you bought Grandma Betty's house! She always had the most beautiful gardens in town." And the rock borders of her gardens are still here, surrounding trees in what is now dense brush, surrounding empty circles, suggesting that once there was a lush, orderly abundance. But now her flowers grow wild, spilling out onto pathways, suddenly appearing between trees, showering April and June and August with beauty that we have not earned.
And they were gone, the flowers, gone for a dozen years, until children moved back in again. And now the yard is suddenly purple and white with crocuses, yellow with daffodils, pink with the haunting fragility of peonies, and once upon a time, there was a woman who lived here who was called Grandma by everyone in town.
There is her hand, I think, when the flowers come back every year. "Pretty!" my children cry, as they run past. Things end, things do not end.