By Megan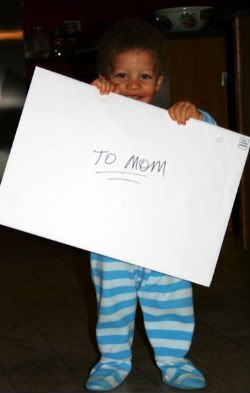 I spent Valentine's Day in bed (sick), sipping a little of the bubbly (gingerale), and it was HOT (101.2 to be exact).
Okay so not exactly the kind of day a woman like me imagines immediately when you mention February 14th, but also, in retrospect, a day full of sweetness. It's true that I didn't get to consume unlimited chocolate, guilt-free, and it's true our special dinner reservations had to be cancelled and it's true that instead of a slinky, form-flattering new dress a pair of sexy, strappy heels I spent the day in fuzzy fleece pants and wool socks. But if Valentine's Day is all about love, I most definitely got my fill of the good stuff.
I lay in bed upstairs, tucked in carefully by a concerned and doting Bean, listening to the sounds of my family below me, small footsteps thumpity thump thumping from family room to office to kitchen, giggles and squeals and a foot stool sliding into place by the counter and always Daddy's voice, a gentle boom, low and soothing, asking and reminding and comforting and answering.
They left me alone, mostly, which I needed, but after each while passed, the bedroom doorknob turned ever so slowly and quietly and my husband's frame filled the doorway slowly and I'd look up to see him as he smiled and asked if I needed anything, brought me crackers or a drink, felt my forehead, kissed the top of my head, pulled the blankets up to my chin. Rest, he would tell me, and so, after asking motherly questions about the kids and getting the right answers, I did.
This morning I feel a little better and have gotten lots of hugs and snuggles from the kids. Daddy is taking them out to breakfast and they're excited, running around downstairs again with shoes on and their coats, getting ready for a big adventure, and he's brought me coffee in bed as I write this, and kissed my head again.
Valentine's Day is over and I never got out of my fleece pants and wool socks, but my life is filled with big, big love and top-of-my-head kisses and crackers and coffee and family, and I am very, very well, sick or not.
Megan also blogs FriedOkra.