By Megan
Back before I had kids, I used to buy purses based on their color. Their texture. The feel of the leather. The way they smelled. The way they added that perfect je ne sais quoi to an outfit.
Now that I'm a wife and Mom, I select a handbag based on how big a truck I can drive into it without grazing one of the side-view mirrors or smashing the grill.
The purse I covet these days is not a dainty leopard-skin clutch with lipstick-red leather trim and a tiny gold-beaded clasp. No, these days what I really need is a three-car garage with shoulder straps.
Case in point: After a weekend of running around all over town with the family, playing, shopping, eating out and going to a minor-league baseball game,  I noticed strange groaning noises coming from my generously-proportioned genuine orange naugahyde hobo-bag with the silver-tone buckle.
(Don't laugh, people. You have no idea how many poor little orange naugas had to give their lives to make this bag. It's tragic. Well, at least that's what I hear people sayin' behind my back as I walk past them carrying it. TRAGIC!)
On closer inspection discovered it was being stretched and pulled to its very breaking point by the sheer volume of garbage I'd managed to cram inside it over the course of two days.
And I realized with a sigh that for all its, ahem, fashion-forwardness and, er, edgy, eye-catching style, this bag of mine has crossed that hair-thin line between spunky, bold accessory and frumpy, dumpy Mom-purse — stuffed to capacity with supplies for all of our around-town travel (oh it gets worse, WAY worse when we actually leave town for a few days!), the hobo's gaping maw hanging open slack-jawed to display an oozing, disorganized junk-heap of familial treasures.
I hauled Purse-zilla up to the countertop last night and unloaded it, laughing. I've come a long way since the days of wallet, keys, lipstick and out-the-door, people:
Behold the contents of the Mom-purse.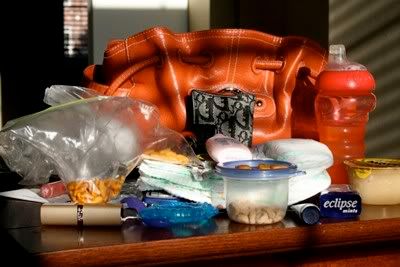 wallet
keys
lipstick, lipgloss
a little pot of lip balm
a tube of lip sunscreen
Chapstick
blue figure eight teething ring
a small pair of pink sunglasses
4 pink wooden daisy-beads
3 lavender wooden heart-beads
one wooden faeirie-bead
an empty Tic-Tac box
a pen from a mutual fund company
travel-sized orange-ginger lotion
whoops, 3 more lavender heart-beads
emery board
7 quarters
a tiny measuring tape/keychain combo, price tag still affixed
a Pampered Chef catalog
a 1-gallon zip-top bag containing approximately a dozen baby-wipes
a 1-quart zip-top bag containing a handful of crushed goldfish crackers
cell-phone
another lipstick
brown sunglasses
two hair-appointment cards
a blue plastic spoon
a hair elastic
three girl-things and a receipt for 2 muffins, a cookie and 2 coffees dated July 1, 2009
a parking pass – Green Lot!
travel-sized baby lotion
eclipse breath mints – 4 left!
more orange-ginger lotion
travel-sized hand sanitizer
2 Luvs diapers
half-full sippy cup
half-full water bottle
camera
little cup of Cheerios
empty gallon-sized zip-top bag
5 individually-wrapped wet-wipes, courtesy of Famous Dave's BBQ
my "transformer" hair brush
3 baseball ticket stubs
a sun hat
a little tub of unsweetened applesauce
half of a green crayon
3 Fisher-Price cars
and another set of keys, just in case (?!)
Alrighty! Now it's your turn! What's in YOUR Mom-purse?