5 Minutes for Parenting's weekly column, A Dose of Humor, is here to remind you to take your humor pill regularly as the best medicine to treat the side effects of parenting! It features a different blogger every week and is hosted by Rachel at Grasping for Objectivity in My Subjective Life. Now you can also join in by linking in your funniest moment of the week in the comments of this post!!
Jana Mathews is a stay-at-home mom to four small children (three born in the same calendar year) in Philadelphia and the author of the popular The Meanest Mom blog. She lives up to her blog title by forcing her children to use utensils, brush their teeth, and occasionally wear seasonally appropriate clothing.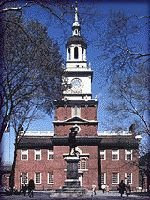 Despite the endless rain, I couldn't wait another day to see if my national monuments were still intact, or if they were desecrated by
eighth graders
. We strolled up to Independence Hall just as a tour guide was leading a group of what appeared to be more eighth graders into an antechamber where they would be treated to a ten-minute lecture about the founding fathers.
During the lecture, my children busied themselves digging through the dark cavities of my purse in search of a rogue breath mint or piece of gum. They took a break from their treasure hunting only long enough to answer the tour guide's questions.
"Who wrote the Declaration of Independence?"
If any of the eighth graders knew the answer, it wouldn't have mattered. Three hands shot up before the tour guide got to the second word.
"Thomas Jefferson!" screamed Cortlen when called upon.


"Who helped Jefferson write the Declaration of Independence?"
Kellen and Camber waved their arms so wildly that they practically fell out of their chairs. "John Adams! Benjamin Franklin!" they barked in quick succession.
The eighth graders' teacher stopped me on our way out of the building. "Your children's knowledge of American history is very impressive," she told me.
"That's because they are all geniuses," I said. I failed to add that my children have heard the same lecture no less than twenty-seven times.
As if to prove my point to someone, if not myself, I rephrased the tour guide's questions to them on the drive home.
"So who is Thomas Jefferson again?" I asked.
"The first baseman for the Phillies," answered Cortlen matter-of-factly.
"That's what I thought," I replied.
This post was originally published on April 23, 2009 at The Meanest Mom.
If you would like to be considered to be featured in A Dose of Humor, email Rachel at doseofhumor (at) gmail (dot) com.
Join us and link up your funniest moment of the week in the comments below!!!