By Megan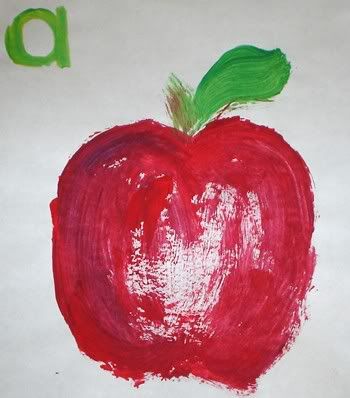 If you're like me, you've been scampering around for a few weeks now, trying to pull together everything on your Back-to-School list — the registration, the shopping for supplies,  clothes and shoes, the re-organizing of the calendar and re-implementation of a school-friendly daily routine — so many important to-dos boiling away on the front burner! In all this scrambling around, I find I'm having to remind myself to keep my little student herself from getting pushed to the back burner as I try to get everything else ready for her second year at pre-school.
Bean and I have talked two or three times over the summer about her return to school in the Fall. I know she's expecting and even excited about it. Still I feel like I need to take some time over the next weeks to make sure she's mentally and emotionally prepared to get back into the "grind" again, and to address any jitters she may have about her new schedule, teachers and classmates. Since we have one year under our proverbial belts, I've got a list of ideas I thought I'd share with y'all and I'd also love to draw from your experience and wisdom, too.
1. Initiate conversations. I'm casually starting short, simple, positive dialogues with Bean that encourage her to remember and talk about what she loves about school. For example, last week we drove by her school on the way to the park and I looked out my car window and said, "Hey, that place looks familiar to me! Do you recognize it?" and she rolled her eyes (I could HEAR this eye-roll, all the way from the back seat!) and said, "Ma-maaaa. That's my SCHOOL." "Gosh, I guess school starts again soon! Did summer go by fast or what? What are you going to do the VERY FIRST THING when you go back to school in a few weeks?" "Ummmmmmm…" she thought, "I fink I'm gonna say Hi to Miss Brenda and Miss Pam." (Miss B and Miss P were her teachers from last year.) "Oh, that is so sweet, Bean. They're gonna be happy to see you, I think. And then we'll get to go meet your new teachers for this year!" and she was all "WHAT? I'm gonna have new teachers?" "Yes! Brenda and Pam will teach the three-year olds this year, just like they taught YOU when you were a three year old. You'll have teachers who teach the Bigger Kids this year, because YOU, my dear, are a BIGGER kid. And I'm sure you'll love your new teachers as much as you grew to love Miss Brenda and Miss Pam." And the conversation progressed with her expressing her apprehension about new teachers and a new classroom, me listening and presenting the facts honestly but with positivity and plenty of reminders of her "history" in school so far.
2. Let your child initiate conversations. I allow HER to start dialogues as well. Generally I let her do the talking the conversations that she instigates by listening more and asking questions, so we can get to what's on her mind – so I can meet her where she is instead of dragging her to where I think she should be. "Mama, remember how you said I'm gonna have new teachers in school?" "Yes, why?" "I was finkin'. What if I don't LIKE my new teachers?" "What do you think you might not like about them?" "Well, they might fink I'm a baby or sumpin'." "Are you a baby, Bean?" "No, I'm a Big Girl. Peabody's a baby!" "How do you think you can make sure they know you aren't a baby?" "I could help them do things, like passin' out the plates for snack time, or puttin' away the toys, or even bein' the Weather Watcher." "If you do those things, do you think your teachers will think you're a baby?" "Nope!"
3. To gear back up after the relaxed pace and structure of summer, try a School Morning Test Run. One thing I did last year that I'm definitely going to do again this year is I scheduled a full week of "Trial Runs" to get us ALL into the habit of getting up and dressed and fed and loaded into the car in so we could get Bean to school on time. Last year I had a newborn, which made everything a little bit more chaotic and unpredictable, but I think even though Peabody's older and goes with the family flow better now, planning out and implementing a morning routine will give us all a pleasant, calm start to our days. I remember that the days last year when for one reason or another I didn't keep everything moving in the right direction, we all ended up rushing around and I'd get impatient and flustered and I really hated dropping Bean off at school just after I'd been all crabby with her. I don't imagine that felt good to my little girl, either. So the week before school starts, we'll talk about the routine and I'll give Bean her responsibilities. We can make it a fun little memory game of what comes next, and we'll actually DO the routine to be sure it works. With any luck, that'll make the first mornings of school calm and peaceful and pleasant for everybody and I can avoid shrewishness.
4. Pray with your child. We'll include prayers for Bean's new teachers and friends at school in our bedtime prayers with the kids for the next few weeks. And we'll ask God to be with Bean as she starts the year, and to watch over her and over Mama and Daddy and Bean while she's away from us. Obviously this one works for families who pray.
An additional bedtime idea? Story-telling or reading books on the subject of back-to-school. There are plenty!)
5. Schedule late-summer play dates with classmates. Several of the children from Bean's class last year will be in her class this year. I'm planning play dates with these kids and their Moms, so they can re-connect and re-build their friendships so they'll walk into school and immediately see kids they know well and with whom they'll be immediately comfortable.
6.  Take your child to visit the school and meet teachers before the Big Day. Our whole family, including Peabody, will go to Open House night a week before school starts. That's the night Bean and the rest of us will meet her new teachers. Last year what seemed MOST important to Bean in this meeting was that her teachers met ALL OF US. She was especially proud of her little brother then and her teachers told me she talked about him quite a bit all year long. Bean still introduces her brother to EVERYONE she meets, so I think taking him along to meet everyone this year will again be important and helpful for her.
7. Get your child thinking about how to make others at school feel happy. Something new I'm going to try this year is I'm going to help Bean make a crafty gift to give her teachers on the first day of school. We gave teachers' gifts twice last year, once at Christmas and once at the end of the year, and I watched how the act of giving touched Bean and made her love her teachers all the more. They didn't have a lot of time to fuss over the gifts she gave them, in fact they didn't even OPEN the gifts in front of her, but just in the simple motion of handing them each a package FROM HER she gathered an extra measure of connection to them. So although I know the first day may be a bit rushed and busy for the teachers, I am hoping we can quickly and non-disruptively slip a little something to them so she can get those happy feelings flowing immediately. I'm also going to remind her that other children may feel scared or shy on the first days, too, and that she can help them by inviting them to play with her, or by simply telling them she feels scared sometimes too and it's okay.
8. Give your child a way to connect with you while you're apart. Next weekend we're going to set up a tripod and take some pictures of Mama, Daddy, Bean and Peabody together, and a few of each of us individually, just being ourselves – some goofy faces and some smiles. I'm going to print out a few good ones and make a little "brag book" for Bean to keep in her school backpack. That way if she's talking or thinking about her family, she'll have something she can pull out (when appropriate) and look at or show to her friends. And if, by some small chance, she starts missing us, which she won't, but just in case, she'll have those pictures to get her through until the end of her school day. If she took a lunchbox, I could also slip a picture in there every once in a while, too. But she eats lunch at home until next year.
9. Give your child some age-appropriate ownership of the Big Day. Bean and I will pick out her first day of school outfit together, and we'll pack up her backpack with the required change of clothes. The school asks that kids leave their own toys at home, but have given us clearance to allow our little ones to take comfort items like bears or blankets for the first week or two if our they so desire. Last year, Bean took her Teddy the first day and never even took him out of her backpack. This year I'll give her the option of taking Teddy again, but I'm guessing she's going to leave him home with me instead. Which will make me sad, but happy, too. I do think having Teddy with her just in case was really helpful for Bean last year. He's her rock away from Rock.
10. Focus your child on past successes and good times. On the Sunday before the first Monday of school, I have plans to get out the "yearbook" Bean's teachers made for her at the end of last school year and look through it with Bean. There she'll see the faces of her friends and teachers and have a great time remembering the fun she had with them all year long. I'm also going to get out a few of the crafts and other things she brought home last year, and we'll look at those together as well. Before she started her first year last year, I likened school to a few of the little recreational classes she'd attended previously with other children and teachers or coaches.
11. Be patient. While Bean's introduction to school went fairly smoothly and she loved it almost immediately, she took a longer time to warm up to the first few lessons and classes that she attended without me. What I learned in those times was that she just needed time and reassurance, a listening and empathetic ear, and a lot of love and hugs for every step she took forward. I made the early mistake of panicking and thinking Bean was unusual or flawed in her shyness, but observation showed me that many other children (in fact most of them) took a while to fully embrace their independence and thrive outside of direct parent-child contact. When I calmed down and gave Bean the benefit of the doubt along with my support instead of my criticism, she adjusted just fine, and much more quickly than I expected. She's become quite the social butterfly in the past year.
Overall, I want Bean to have sense of history and future, excitement and calm as she goes back to school. I think these reflections and positive reinforcements will stir her excitement and self-confidence and get all of us all off to a great start of Year Two. Are you sending a little one off to school for the first or second time? What did I miss? Also, many of my ideas, like the conversations and the prayers and the schedule Test Runs could work for older school children as well and I'd love to hear especially from those of you who actually have older kids what you're doing this ear to kick things off with as few nervous butterflies as possible. Home-schooling parents, if you take summers off, how do you prepare your kids for re-entry to their schooling season?
Any and all of y'all please add your back-to-school suggestions in the comments, for sure!
And happy Back-to-School time, everyone. I wish you and your kids all the very best and plenty of happy, healthy, and safe learning this year!
(Megan blogs at FriedOkra and Twitters as FriedOkra.)