By Megan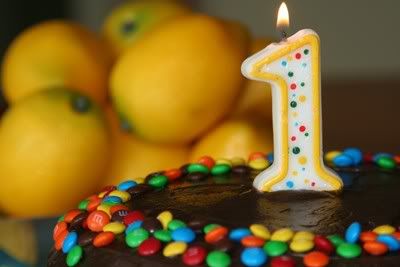 Well, we did it.
Peabody and I have officially made it to the one year mark in our nursing relationship. We've had a busy weekend celebrating his birthday, so the realization that we've finally reached the goal I set for us long before he was born didn't really hit me until last night, as we sat together in our big red chair in his bedroom, rocking and nursing, my sweet baby boy lying cozily in my arms, his warm little hands pat-pat-patting away on my chest as he quietly enjoyed his pre-bed milkies, and me drinking in the sight of his soft, peaceful features as I pondered the events of the fading day. Peabody's so caught up in the business of being a one-year-old lately that I'm rarely allowed to just hold him and gaze at him the way I yearn to, so I'm glad I've got a sure-fire way to capture his attention at least few times a day.
I'm delighted we made it this far, and I don't imagine either of us instigating weaning anytime in the very near future. He's finally resigned himself to sipping a little cow's milk or water from a cup during meals, but he makes it clear in no uncertain terms that I'm still his favorite source of liquid refreshment, and I'm perfectly okay with that right now. The road we've traveled, particularly the first five or six months of it, hasn't always been smooth – we've weathered nursing strikes, supply woes and plenty of painful teething and biting – so now that we've gotten everything all figured out and it's mostly just easy and pleasant, I can't really see rushing to END it. Now's the time to relax and appreciate the partnership we've worked so hard to create and perfect.
I don't feel fanatical at all about extended nursing. I just feel like quitting now would be somehow cheating both of us of the simple, good stuff we're experiencing now as a reward for our patience and perseverance through the early challenges.
I have no idea when either one of us will be ready to call it quits, but I do know that it feels great not to be counting down months, weeks or days in my head anymore. We've reached the summit, and now we can coast slowly down the other side of the mountain together, enjoying the beautiful views and basking in our joint accomplishment.
Good to know it's all gravy from here.
Megan regularly mixes cake, gravy and metaphors at FriedOkra.