5 Minutes for Parenting's weekly column, A Dose of Humor, is here to remind you to take your humor pill regularly as the best medicine to treat the side effects of parenting! It features a different blogger every week and is hosted by Rachel at Grasping for Objectivity in My Subjective Life. Now you can also join in by linking in your funniest moment of the week in the comments of this post!!
Jana Mathews is a stay-at-home mom to four small children (three born in the same calendar year) in Philadelphia and the author of the popular The Meanest Mom blog. She lives up to her blog title by forcing her children to use utensils, brush their teeth, and occasionally wear seasonally appropriate clothing.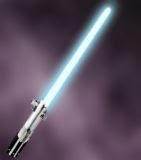 My sons' preschool has a zero tolerance policy regarding weapons. The school also has a similar policy for open-toed shoes, gum, and low-grade fevers.
My sons memorized the rules in September and recite them on the way to school each morning. Kellen in particular is very diligent about minding his P's and Q's at school and thus, was understandably upset when he was forbidden from taking his show-and-tell item out of his school bag.
"I brought a weapon!" he cried.
I snatched my son's school bag and frantically dug through it, looking for a butcher knife or bazooka. All I found was a retractable light saber.
"This?" I asked incredulously, holding it up. It had never crossed my mind that a plastic fluorescent phallus would be included on the list of banned items.
My son acted like I threw a live grenade into a crowd.
"PUT THAT AWAY!" he screamed, shoving the toy back into his bag.
"Do you want a piece of gum?" I asked, once we were in the car.
Kellen waited until we were out of the preschool parking lot before accepting the illegal substance.
***

Has your little one ever been busted for contraband? What? When? How?
This post was originally published on March 25, 2009 at The Meanest Mom.
If you would like to be considered to be featured in A Dose of Humor, email Rachel at doseofhumor (at) gmail (dot) com.
Join us and link up your funniest moment of the week in the comments below!!!