5 Minutes for Parenting's weekly column, A Dose of Humor, is here to remind you to take your humor pill regularly as the best medicine to treat the side effects of parenting! It features a different blogger every week and is hosted by Rachel at Grasping for Objectivity in My Subjective Life. Now you can also join in by linking in your funniest moment of the week, using the Mr. Linky at the bottom of this post!!
This dose of humor was provided by Jenn at Jenn's Junque.
The girls' Girl Scout troop has been learning to use recipes, measure, etc for the last few meetings. Tonight they decorated binders to store their recipes. They all cut pictures of food out of magazines to glue on their folders, supposedly things they would want to eat.
This is Beth's folder. You can see that she has the love of stickers going on. And she did cut out some pictures for her recipe book.


I had to show you a close-up of her picture choices.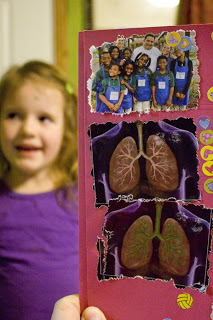 I don't know about you, but to me nothing says "Lovin' from the oven" like Emeril Lagassi, coconut shrimp, and ooze-filled lung sacs.
This post was originally published on March 2, 2009 at Jenn's Junque.
If you would like to be considered to be featured in A Dose of Humor, email Rachel at doseofhumor (at) gmail (dot) com.

Join us and link up your funniest moment of the week here!!!