5 Minutes for Parenting's weekly column, A Dose of Humor, is here to help treat the side effects of parenting! It features a different blogger every week and is hosted by Rachel at Grasping for Objectivity in My Subjective Life. Now you can also join in by linking in your funniest moment of the week, using the Mr. Linky at the bottom of this post!!
Rachel from Just Another Day in Paradise is sharing another priceless moment with us today. Join her as she and her husband attempt to tame the wilds of Arkansas with 2 small kiddos.
When I picked Kyler up from school yesterday, he had this paper in his backpack.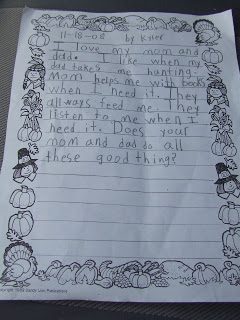 Let me help you out. Apparently, the students were asked to write about their parents. Kyler wrote
I love my parents. I like when my dad takes me hunting. Mom hellps me with books when I need it. They allways feed me. They listen to me when I need it. Does your mom and dad do all these good thing?

This absolutely redeems me, in my opinion, for the left-my-kid-at-school-by-accident Fiasco of 2008. After all, we ALLWAYS feed him. Do you think I'll make it off the bad parents list at school? And what is this "we"? Kevin is three hours away most nights. I guess I should be glad he didn't say, "Sometimes my dad feeds me." That might have been difficult to explain.
This post was originally published on December 2, 2008 at Octamom.
If you would like to be considered to be featured in "A Dose of Humor", please email Rachel at [email protected].
Now YOU can go ahead and join in the humor dosage too!! Link in your funniest moment of the week with Mr. Linky: