By Stephanie
I've asked Kim from Prairie Mama to guest post today. She has one of those blogs where I stepped into her words and then wanted to read everything she's written.
Enjoy.
Once upon a time, there was a woman. She liked to knit. She liked to knit a lot. She had these two children that she adored. She wanted to bathe them in knitterly goodness from head to toe, because she loved them. So, she made them hats, she made them slippers, once she made a sweater for the wee one and she wore it all the time. Based on that success, she decided to make them both sweaters. Not just any sweaters, but workhorse sweaters. The kind that would last for years and years and years. The kind that, although they are wool, they could be washed in the washing machine. The kind that got softer and softer with each wear.So, this knitter, she scoured the internet for the perfect pattern. When she found it, she shouted for joy and went to her nearest yarn store and bought the pattern. She even took her 3 year old son with her to let him choose what color yarn he wanted. He chose Shaba Green. She let him look at lots and lots and LOTS of pictures of the sweater so he could decide exactly how he wanted it. He decided with a pocket, but no hood. The knitter was excited, she cast on right away. This sweater was a lot of work. It cost her about $40 for the yarn and pattern, and took 6 months to complete. However, it was worth it for her son. She would do anything for him.
In anticipation of loving this sweater so, she bought yarn to make one for her daughter. Her daughter, she reasoned, is younger and less picky, so she would pick out the color of yarn. It had to be perfect for her little princess. And perfect it was…Blueberry Borscht. How could you go wrong with a color name like that? Purple with flecks of pink and blue? It was beyond perfection.
When she was nearing completion of the sweater for her son, she cast on for her daughters. She was having fun (except for the sleeves that seemed to go on forever). She wanted to have them done so they could wear them in the cool springtime weather of Utah. So, she just kept knitting. She knit through morning sickness, she knit through a move to a new home, she knit and knit and knit.
Finally…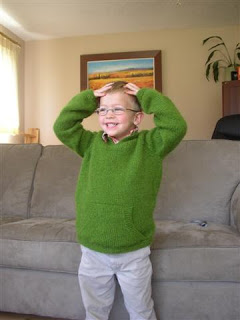 SUCCESS!!! She washed the sweater so lovingly with wool wash and hung it outside in the warm spring sunshine to dry. When it was done, she showed it to her son. He tried it on, but it was a warm day, so he didn't want to keep it on. He left her with promises of "next time it's cold, I'll wear it!"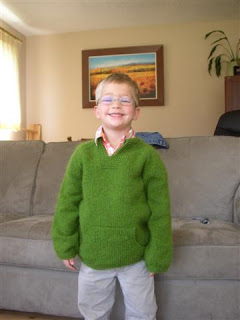 The knitter believed him, so she tucked it away for a rainy day.
Meanwhile, she was working oh so diligently on the littler sweater. This one was much easier, as it was a size smaller. Well, as fate would have it, while working on his sister's sweater, there was a cold, rainy day (in fact, there were several of them). The knitter was so excited, she RAN to her closet to get the sweater down. She beamed as she handed it to her sweet son. This now, almost 4 year old, looked at her with disgust and said, "I don't LIKE that color GREEN! I wanted a DIFFERENT color green. I'm not wearing it." The knitter tried reasoning with him and he left her with promises of, "next time it's cold, I'll wear it". The knitter was, in a word, crushed. Not only did this represent 6 months of her life and $40, but so much love and so much excitement of seeing her dear child wearing and being warmed in, something she had made with her own 2 hands. She didn't give up hope however, she knew that her daughter would LOVE her sweater, and her son would see how much his sister loved it and in turn, would love his.
So, she kept working. In the wee hours of the morning in June, she finished her daughter's sweater. By now though, it was warm outside. So, she lovingly washed and dried the sweater, just as she had her sons and tucked it away for a cold day. That day came in August when visiting Lava Hot Springs. The family bundled up one evening to head to the hot springs. The knitter had brought the sweaters for a moment just like this. She brought the sweaters and no other means of being warm. Her plan was going to work. The children would put on the sweaters, maybe balk at first, but would see how wonderful they were and would fall in love with them.
As all good plans do, this one backfired. The children tried them on and declared they'd rather be COLD than wear the sweaters. Again, the knitter was saddened by this cruel twist of fate. So, again, she packed up the sweaters until fall.
Labor day dawned cold and rainy. Immediately the knitter got out the sweaters. Both children wore them! She was THRILLED beyond belief!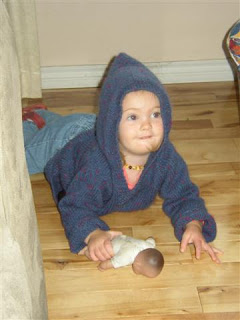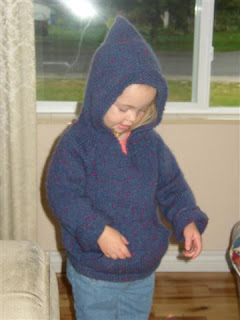 Despite the fact that she had to cajole them into wearing them, she thought, "this time, THIS time they will fall in love with them and will realize what they've been missing!". No. It was not meant to be.Now the knitter has 2 sweaters. Both perfect. Both warm. Both knit with love. But with no one to wear them.
She will keep them as a reminder of the fickleness of her children. And a reminder of how small they once were because she knows it won't last for long.
Find Kim blogging at Prairie Mama.