By Beck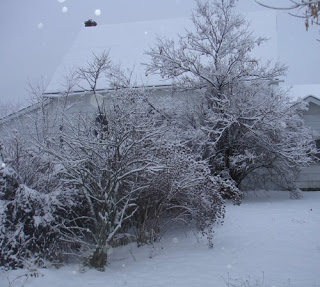 The old coin about the year – that spring was youth, summer was vibrant maturity, fall was middle age and winter… well, winter was old age and death – anyhow, that coin feels very true right now, but not in a bad way. The year is coming to an end and everything is white and pretty, if a bit stark, and in a few days, Christmas lights will be up all over town and you will just ache with beauty to see it lit up at night. Small towns were made for Christmastime, look their best coated in fairy tale white and with coloured lights lining the old roof lines, even small towns that are fading away, shining away in the darkness.
I made my middle kid cry this morning. He was griping about how he didn't want to bring money to school for a charity event that morning, and as I was mixing up a cake to go into his lunch in thick, chocolate slices, I told him that some kids didn't have parents, didn't have anyone who loved them in the whole world, and that the comfort of a few small presents and of knowing that Jesus loves them was a huge, huge thing – and then I turned my head and saw him with tears running down his cheeks. Good work, me. Way to make the poor big-hearted kid cry.
"Please stop telling me sad stories," he said.
Sometimes I feel like I'm 100 years old already, old and wise like a wrinkly turtle. Some other times, I feel like I'm 100 years old – still – but only in the way where I'm weary and tired. Standing there, suddenly knowing that I had said exactly the wrong thing to my child made me feel like I had instantly aged, my hair turning white about me. Sometimes I feel like all there ever will be are sad stories, that it will always be November and grey outside.
This weekend marks the beginning of Advent. Already, trees are lighting up all over town. Already, little houses are shining brightly in the wintery darkness.