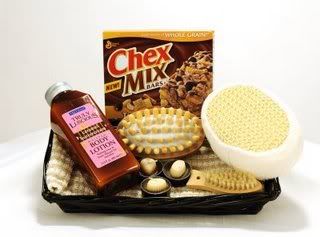 By Stephanie
It's Bloggy Giveaways time and 5 Minutes For Parenting wants to reward THREE of our wonderful readers with a chocolatey spa treat-  a box of tasty Turtle Chex Mix Bars, chocolate candles, caramel lotion and spa essentials like a loofah, hand massager, nail brush and spa towel.
Did I say chocolate candles?
Yes I did.
As well as the new Chex Mix Bars- combining crunchy Chex pieces, pretzels and peanuts with chewy and indulgent ingredients like caramel and chocolate. And get this- they have less than 150 calories per bar!
If you are new to 5 Minutes For Parenting, I encourage you to check out our fabulous contributors who are probably some of your favorite bloggers. Subscribe to us here, check in again later this week for MORE giveaways, and be sure to read Megan's post today: Decision '08!
Win! Three winners will receive this luxurious basket of indulgence! Just leave a comment here- please be sure to include your email or blog address so that I can contact you. One entry per person & US entries only.
Winners will be chosen at random and notified Friday Oct 31 by 10 am CST.
Contest has ended.
Congrats to Lace of Keeping My Fingers Crossed, edj of Planet Nomad, & Michelle of Joelito's Mama!
Stephanie Precourt is the managing editor of 5 Minutes For Parenting and also blogs at Adventures In Babywearing.