By Megan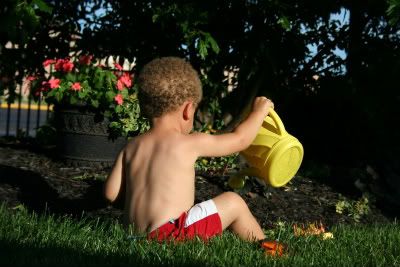 Parenting-wise, I tend to do things my own way. Among the mothers on the block, I'm THAT one – the different mother, who nurses her kids for sweet forever, drives the pediatrician crazy with her delayed immunization schedule, (mostly) insists on organic, natural foods and listens to public radio in the car. I put my kids to bed early and have only bought them ice cream from the ice cream truck once, (ever, in FOUR YEARS of living here), plus I keep the TV off all day long and we don't own a single Playstation, DS or Wii.
Gosh, reading that, even I'm finding myself a little annoying. (I sound a lot like MY Mom!) No, actually, I'm good with most everyone else's choices and I'm always open to advice from other parents and respect my fellow Moms so much – we're all doing what we think is best for our kids! I do (or don't do) all those things for good reasons, which are the same reasons any other Mom makes her own choices, with a quirky little edge of ME-ness. Trouble is, overall, I'm also a bit uptight with my kids most days (does this surprise you?), which I chalk up to my well-known battle with perfectionism and tendency to want to keep everything in my charge tightly under my control. Clean, neat, organized, ordered, structured, purposeful, productive all equal successful in my book.
It's a battle, though, with two small kids. Every day, more and more, and most especially on these long, flowing, fresh, natural days of summer, I feel like I'm holding back a burgeoning dam of spontaneity and wantonness – and you know what? WHY? Why am I doing this to my crazy, sweet, imaginative, curious, mucky little kids? Do I really want them all neatly pinned down and trapped within my tidy little boundaries?
OH HECK YEAH, I DO!
Sigh.
Only no, I really, really don't.
So I've been consciously letting go this summer. Of some things. Not of the BIG things that still really do matter to me, but of the small things, that right now really do matter to them.
I'm lettin' 'em get muddy. And wet. Maybe even stinky (but not TOO stinky!). I'm buyin' 'em ice cream, in CONES if they want, at least once a week. I'm giving them sidewalk chalk and bubbles and who knows maybe one of these rainy days even the dreaded finger paints. I've let them stay up past bed time every once in awhile and play outside after dinner instead of throwing them immediately into the bathtub. We're having pajama days and flip-flop excursions and occasionally our clothes don't match and I've successfully stifled my proud desire to shout to the people who see us draped in our weird hodge-podges of colors and styles and seasons, "SEE THAT OUTFIT? I DID NOT CHOOSE THAT OUTFIT."
I'm willing myself to stop lying awake at night stewing over the hideous mess in the basement playroom (it is truly awful, but it's FUN!) and I'm leaving the kitchen table sticky after breakfast when the kids want to go out and drive their cars on the back porch in the rising sun.
And when the sun sets at the end of the day, I'm asking myself not so much "did they eat all four food groups at every meal and go to bed in spotless bedrooms" but "did they soak up enough sun, giggle their heads off, get dizzy from spinning and go to bed happy?"
And so far, I think they are.
Megan also blogs at FriedOkra.