By Megan
The afternoon darkens and cools like a certain kind of late autumn day does, and a slow, chilly rain patters against the windows in the family room – windows that look out on grass still green, but trees nearly leafless and a sky unmistakably Novemberish. This is the invitation I didn't expect but happily accept – to settle in at home and watch a damp, dark evening steal across the back yard from inside where we're warm and cozy in the glow of lamps and a candle or two.
My children sit side by side watching a movie. She's criss-cross applesauce with a big red bowl of popcorn in her lap, and he's in his eating chair, scooched as close as she could get it to her own. They're mesmerized and giggling. She's shoveling handful after handful of popcorn into her mouth and reaching over to carefully arrange a new pile on his tray from time to time. He'll get a few kernels up to his lips and the rest he'll gleefully smash and pulverize under his palms and between his delighted little fingers. Tiny bits of the fascinating new treat cling to his shirt, his chin, his hair, and bigger bits tumble into his lap and surround them both on the floor like they're in a snow globe waiting for a good shaking.
I'm folding laundry and starting dinner and sorting mail as I listen to them laughing, look up to glimpse their heads bobbing together, hear the crunch of the popcorn. This entire floor of the house, the kitchen, dining room, office, family room, laundry room and pantry, all of it, lies under a layer of toys, jackets, shoes, books, spilled cranberry juice from a sippy cup and the contents of my kitchen cabinets, and I walk around picking up and wiping, moving things around, this thing here, that thing there.
My eye falls on my camera, and my camera finds its way into my hands.
I kneel in front of the kids, between them and Charlie Brown, and I click away briefly. The light's too dim, and her hair has sprung loose from the hasty pony tail I made this morning and surrounds her happy, lost-in-the-moment face like crazy-hot sun rays. He's laughing so hard I can't even see his blue eyes and I notice one of his socks has disappeared during nap time.
To look at it, the afternoon is messy, cluttered, jumbled.
To live in it, though, is sheer perfection.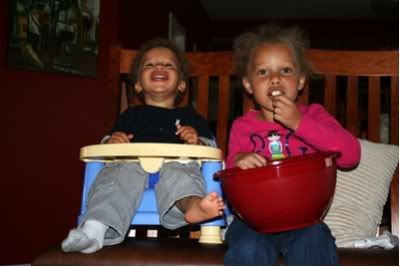 Megan blogs about life as messy, jumbled, chaotic perfection at FriedOkra.