Hello again!
Part One of this series contained some general tips about baby registry and a list of my personal "must-haves" for a newborn baby. This post will cover the items I recommend buying as baby grows and the "luxury" items that are great to have but not absolutely necessary. If you are one of the lucky mommies who has lots of very generous family and friends who are eager to shop for you, then you may want to go ahead and put these items on your registry list. Babies grow up faster than you can ever imagine, and it is best to go ahead and have these items already on hand.
As Baby Grows… More Must-Haves for your Infant and Toddler
Baby Gear: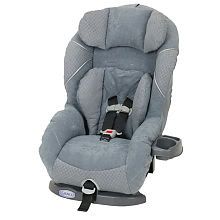 As you gaze at your tiny newborn, it is hard to believe that there will come a day when Baby grows out of the infant carrier car seat. But trust me… the days will fly by, Baby will soon hit twenty pounds and be ready for an Infant/Toddler car seat. I recommend the Graco ComfortSport Convertible Carseat. It is safe, durable, and not outrageously priced.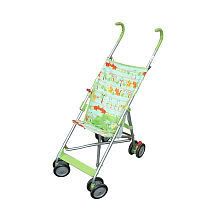 Once Baby grows out of the infant carrier car seat, you will also need a new stroller, since the car seat frame stroller will no longer be useful. I have had MANY strollers of varying expense, brands varying from Graco to Peg Perego. I found that the lightest and easiest stroller to use while running errands or maneuvering through the shopping malls is (surprisingly enough!) the cheapest little umbrella stroller! I just keep one in the back of our van at all times, as it doesn't even take up much space. Believe me, space issues will become very important to you as Baby moves in with all of the gear.
***
Feeding: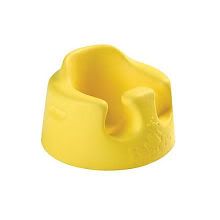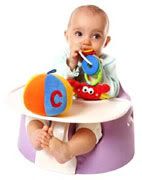 Once Baby is able to support his/her head unassisted, it is time for a BUMBO! These are relatively new, and Benedict is the only baby I've used one with. They are made of very dense foam. Not only does it help baby sit up, but it is the perfect solution for a feeding seat. I've had large plastic highchairs, the Eddie Bauer wooden highchair, an antique wooden high chair, and two different portable highchair feeding seats. They all take up too much space and are too hard to clean properly. The Bumbo is SUPER easy to clean, and the tray (sold separately) fits into my dishwasher without any trouble. I love this seat… I think its inventor is a genius. 🙂 I will be a proud Bumbo-owner for life.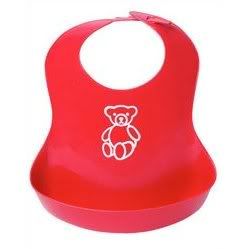 Another baby item I didn't discover until I was on my third child… Baby Bjorn Bibs. They are made of soft rubber, and the curved pocket catches food and liquid spills. Best of all: they are even dishwasher-safe! I will never buy a cloth bib for feeding my babies again. They get so stained and yucky, and you can only use them once before they need washing in the laundry machine. Cloth bibs are also not waterproof, nor can they catch half a sippy cup of milk. 🙂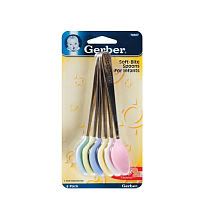 I love Gerber soft bite spoons. They are the perfect size for feeding baby, and if Baby bites down on the spoon, it is gentle on the gums.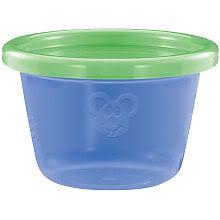 I use the take-and-toss snack cups for baby food or cereal bowls, because they have lids and are portable. They're also a great size for baby servings.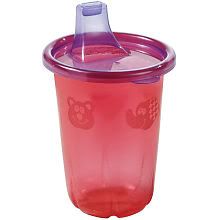 Madeleine Sophie couldn't figure out a sippy cup, since she had been exclusively breastfed. She ended up learning to drink from a straw at only 9 months old, and we used the (sadly, discontinued now) Gerber Sport bottles with a straw. Isabella was bottle-fed, and had no problem with any sippy cup we put in front of her.
Benedict also never used a bottle, and we tried every cup on the market… from the Gerber softspout, to Avent no-spill, to Nuby cups, to Playtex with straws. He simply couldn't seem to get the hang of it. Imagine my surprise when he took his sister's hard plastic take-and-toss cup and drank out of it like a pro! Adam had forbidden me from buying any new baby cups, since I had bought just about every one invented in hopes that Ben would like one. 😉 How funny that he ended up loving the cheapest, simplest-to-clean ones available.
Beware though… these cups DO leak.
***
Packing the Diaper Bag:
For the first few weeks of baby's life, take my advice… STAY HOME. Days after I had my first baby, I was out shopping and at church and making social visits with a newborn in tow. I also tried to keep my schedule of housework and returned to my nanny job 10 days after I had her. I simply didn't know any better! It took quite awhile for me to heal.
With my second baby, I thought I had learned something. I stayed in for a week, and didn't do any housework for a week… but ended up going to church and out to lunch afterwards with friends. Since my own mother had gone home 6 days after I had the baby and I was having my in-laws in town, I felt like I should get out of bed and clean and play hostess. The next day, ended up in bed with fever for three days!
With Ben, I finally listened to doctor's advice. I didn't even go out of the house for THREE weeks! I stayed in my jammies all three weeks, and my mom was here helping me with all of the housework. I did nothing but rest with my baby boy, and at the end of those three weeks, I felt healed, relaxed, and peaceful.
So… that's why I have the diaper bag on a list of things to buy "as baby grows." You shouldn't be out and about very often for at least the first 6 weeks, as you need time to rest and baby's immune system needs time to develop. For the short trips to the grocery store or wherever you feel you have to go, just tucking a diaper, a box of travel wipes, and an extra outfit in your purse should suffice. 😉
When it DOES come time for you to take baby around for extended outings, get yourself a big diaper bag. BIG. You will want to have everything but the kitchen sink on hand, just in case you need it. My advice is to buy a bag that you actually LIKE, not one covered in Winnie-the-Pooh…. unless that's your thing, of course. I like having a bag that either looks like a bag I would carry WITHOUT having a baby, or a black bag that Adam won't be embarrassed to hold. Right now, I have a black Eddie Bauer, but this is the one I wanted:
I let Adam talk me out of it, because he said he wouldn't carry that around. 😉 However, since I find I am the one with the babies running errands, I'm buying a bag that I like next time!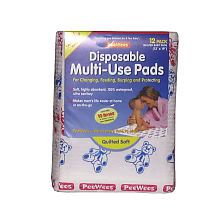 In your diaper bag, I suggest you pack some disposable changing pads. You'd never think about it before having a baby of your own… but who wants to change their precious, newborn baby on a bathroom changing table where other parents have been cleaning their little one's dirty hineys? Not me! Who knows how long it has been since the changing table was properly cleaned! I carry a pack of
Clorox wipes and then lay down a disposable changing pad, so my tiny angel wouldn't get any nasty germs.
Another awesome couple of items that I suggest packing in the diaper bag once Baby is old enough to go out to eat at a restaurant or at a friend's house are disposable bibs (YES, they make those!) and disposable table toppers.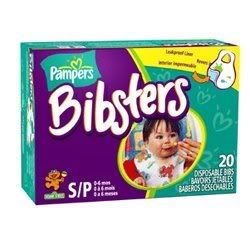 Pamper's Bibsters are so nice. You don't have to fold up a yucky bib covered in food and stuff it somewhere in your diaper bag… just toss it!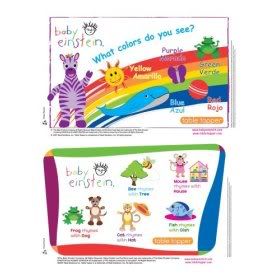 Table toppers are great! I found them at Babies 'R' Us in the baby food section. At a restaurant, there aren't going to be baby-friendly dishes. Even if there were, baby would probably just dump the plate in the floor anyway. My suggestion is to cut food into tiny, itty pieces and put them right on the table or highchair tray, with the disposable table topper underneath to prevent any germs or crazy mess for the busboy.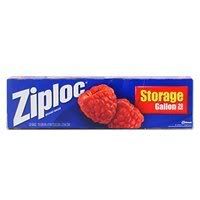 My last suggestion for diaper-bag packing is to have a couple of complete changes of clothes for baby, and pack them in Ziplock gallon storage bags. Why? Because if you have to change baby's clothes, there is going to be a dirty reason for it! Rather than find a pocket to stuff the dirty outfit in, seal it up in a Ziplock bag and it will keep the mess inside until you get home to the laundry machine.
***
For Your Toddler: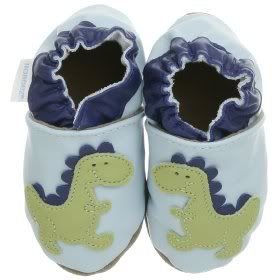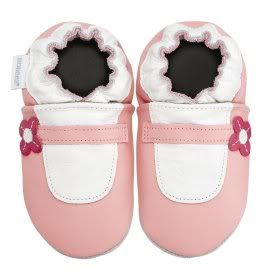 Someday, your baby will become a toddler! While baby shoes are oh-so-cute… please take every childhood development expert's advice and LEAVE THEM BAREFOOTED while they're leaning to walk! Those pretty shoes can really mess up a toddler's developing feet and their sense of balance. If your home is very cold, buy some socks with that no-slip rubber stuff on the bottom. If you are going outside, put the baby in some Robeez. They are the GREATEST, soft-leather shoes that allow baby's foot to be protected, and they don't come off as easily as other baby shoes, while they don't interfere with baby learning to walk. Plus, they are so darn cute.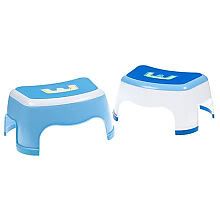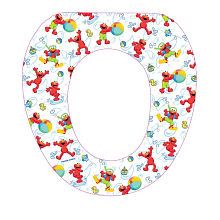 Once your baby enters toddlerhood, potty training is not far behind! Rather than buy a potty chair, which is yucky to clean and takes up more space than you'd think, I suggest getting a soft potty ring and a step stool. Who really wants to clean poopy out of a potty chair? With a soft potty ring, you can simply flush the poo away! Babies 'R' Us carries them in plain styles, as well as some covered in your child's favorite characters.
***
Okay, that does it for the "As Baby Grows" essentials.
—–
I've walked you through the basic items I recommend for your newborn and then another essentials list as your baby grows. Below is my list of those AWESOME baby products that are not exactly a "necessity," but are great to have if you can get your hands on them! Beg, borrow, or buy second-hand… this list consists of baby products that any new mom would love to have.
Check your local "Once Upon a Child," search Craigslist, or call a baby consignment shop. There is no reason to pay full price for these more expensive items when you can find them gently used at great discounts.
***
Beg, Borrow, or Buy Second-hand… Items to Get If You Possibly Can!: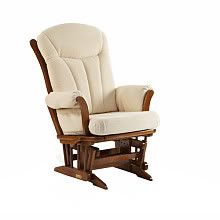 This is a Glider Rocker. I recommend getting a matching ottoman too. I never had one of these for my first three children, but always wanted one. They can be pricey… after all, it is a nice, heavy piece of furniture! My sister has one that I loved breastfeeding in. I had a traditional rocker, which was very pretty but not as comfortable to nurse in. In preparation for our fourth baby, we finally got our hands ona used glider and ottoman. I can't wait to use it everyday with my newborn!
***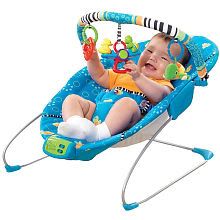 Before the Bumbo, I would have had this on the list of must-haves. A bouncer is a nice, safe place for baby to play and very portable… you can carry it from room to room very easily. I used my bouncers for feeding seats as well, up until my first bouncer finally bit the dust this year. While a bouncer is a great, especially if it has a vibration feature that all my babies seemed to like, an infant carseat carrier with a toy attached can serve the same purpose. So it isn't a "must have" in my opinion, but it is very useful if you can get one.
***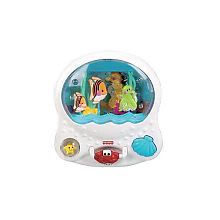 If you followed my NUMBER ONE recommendation for expecting Moms (the Harvey Karp DVD called The Happiest Baby on the Block) then you know how much babies like white noise. The Ocean Wonders Aquarium has been popular with all three of my babies. When they need help drifting to sleep, putting it on the "ocean waves" sound setting helped them to settle down for the night. Older babies enjoy listening to music and seeing the lights and bubbles.
***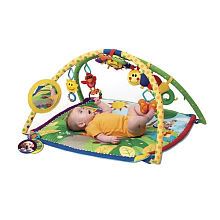 When expecting Isabella, I received a "Baby Gym" for her… basically, an activity blanket with a criss-cross soft bar overhead with attached toys, usually with lights/music capabilities. She loved it! I couldn't find the exact one we had for her, but I'm sure they're all basically the same. Isabella and Ben-Ben couldn't get enough tummy time with such an interesting toy to enjoy. The blanket detaches and is washable, and it folds up quite nicely to store away when baby isn't using it.
***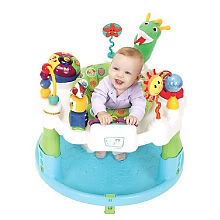 Once baby can sit up unassisted, it will be time to retire the swing and the bouncer. So how is a parent supposed to keep baby safely occupied when it is necessary? A "Stationary Entertainer" or "Exersaucer" is the way to go! We have this Baby Einstein model and we love it. I have mine right in the master bathroom, so Baby can safely play while I take a shower or use the restroom. I bought it from a friend who was getting rid of her baby things.
***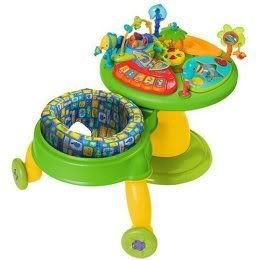 This brilliant toy is a safe alternative to the traditional baby walker. For my first baby, I had a walker… until she tipped over a standing lamp and glass shattered all over the floor under her feet! While her guardian angels protected her tiny toes from disaster, I never used it again. When we had Isabella, we were shopping at Target and found this "Around We Go" entertainer. It has the positives of a walker and of a stationary entertainer, without the negatives! Once baby grows out of this toy, it can be used as an activity table by simply detaching the "walker" seat.
***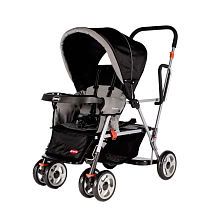 For those lucky parents who are expecting once again, a double stroller is a great purchase. I didn't care for the side-by-side model I had when I was nannying with Madeleine and baby Audrey… it was just too wide to maneuver through doorways and clothing racks at the mall! I much prefer two-seaters with one in front and one in back. My friend Jackie has a Graco model she loves. But my recommendation if you have an infant and a toddler is a Joovy Sit-and-Stand Caboose. Your little one can either ride in front sitting up or in the infant carseat, and the sibling can either sit on the bench in back (with a buckle) or stand. It's great to have options for a fickle two-year-old. 🙂
—–
Our society is knee-deep in consumerism, and we're encouraged to buy, shop, and spend at every turn! Don't be naive… the business of babies is booming, and baby stores are ready to pounce on first-time parents with their HUGE baby registry checklists. They're targeting new parents who don't know any better! Remember, the only things you truly NEED are your breasts/bottles, your arms, a carseat to bring baby home, a safe place for baby to sleep, diapers/wipes, a few blankets, and a few sleepers. Everything else is optional!
In closing, I want to wrap this series up with a list of items to avoid!
***
Don't Waste Your Money on These: Items to Avoid
Complicated Clothing:
First on the list… those complicated outfits, especially in newborn sizes. You WILL be changing your baby's diaper more times than you can imagine, and the last thing you need to get in your way are ruffles and bells and whistles. Remember… the simpler, the better! Also, most babies grow out of newborn sizes seemingly overnight (I did have an exception with my second child, though) so you don't need a whole ton of clothing in the tiny newborn sizes.
***
Baby Gear:
By all means, forget about the heavy travel systems! These are the bulky stroller/infant carrier carseat combos that seem to be a great idea… but they aren't! They are too heavy, too bulky, and just downright cumbersome. Stick with the very lightweight carseat frame stroller I described in one of the earlier posts.
Keep baby safe and forget about walkers. Stationary entertainers or the "Around We Go" entertainer are definitely the way to go. Baby walker injuries send SO many babies to the ER every year, and they're constantly leading to injury even when parents are watching their babies very closely! Walkers are simply a bad idea… and research shows that babies who have walkers don't learn to walk any faster than babies who do not have them.
Steer clear of plastic highchairs with tons of little crevices. They are a nightmare to keep clean and sanitary! It's disgusting! Stick with a feeding seat, a portable highchair seat that attaches to a dining room chair, or an old-fashioned wooden highchair. You'll be able to keep them clean much easier.
***
Furnishing the Nursery:
First, I promise you that having a separate "nursery" room in the house is kind of silly, especially if you are a nursing mom. Adam constantly teases me about the room I decorated and never used! It is simply much more practical to have baby room-in if you are nursing round the clock (as I am) and we always co-sleep anyway!
So, in my humble opinion…
The next item on the list may surprise you… I don't think you need to buy a baby crib! They are expensive and space-eaters. I prefer using the Graco Travel Lite crib right in our room next to the bed. In fact, most of the time our babies start the night in the Travel Lite and then end up sleeping between us after the first midnight feeding. More and more reasearch is coming out in support of co-sleeping, so it may be something you'd like to try as well.
Along the same lines, you really don't need one of those $200 "crib sets." I bought one, and wish I hadn't! They come with fluffy bumpers and comforters (that can be dangerous), valances, diaper stackers (which are cute, but we NEVER used), and overpriced dust ruffles and sheets. I can't believe how expensive they are, and how unnecessary.
Don't get a crib mobile. Have you ever noticed how they are for the parents and NOT for the baby? Babies R Us has "vignettes" set up to display what baby's nursery could be… and notice the mobile. Try to imagine what it looks like from BABY'S angle. It's simply the bottom seams of some soft animals! The PARENTS can see the cute little characters that match the nursery set… but can baby? Most of the time, no. There's really no point!
You really don't need a changing table. Really, you don't! Any veteran parent will tell you that changing baby on a waterproof pad on the living room floor is probably the norm. Changing tables aren't really useful for much more than stacking diapers and changes of clothes.
As stated earlier… don't buy a Diaper Genie or Diaper Champ! They stink. It doesn't matter how often you take out the diaper trash… they still stink. Take dirty diapers out to the garbage can as you change them… I promise, it will save you from a stinky house.
Don't buy a "wipes warmer." I got one as a gift… and it kept "warming" so well, that it dried out the wipes! Simply warm a wipe between your hands for a few seconds… baby will be fine.
Please don't buy a humidifier for baby's room. Many pediatricians recommend them, but our family allergist says that they increase mold spores in the house! It can be dangerous for people and babies with extreme allergies.
If you absolutely feel that you HAVE to decorate a nursery, be smart about it. Paint the wall a color that you'd like for a toddler and child as baby grows. Buy a crib that converts to a toddler bed. Buy a
dresser that can have a changing pad attached to the top. Don't spend money on furniture and room decor that you will only use for 18 months… buy things that can grow with baby.
***
For Mom:
I'm so sorry to be the bearer of bad news… but stretch marks are genetic. There really isn't any lotion or cocoa butter or magic scar-creams that will keep you from getting them. Stretch marks are scarring on the dermis, the second layer of skin. No lotion on the first layer of skin is going to prevent this. Keeping your skin moisturized will definitely help you be more comfortable as pregnancy progresses, but no matter how moist your skin is… if you're genetically disposed to getting stretch marks, you'll get them. Don't waste money on expensive creams that will not work.
***
That does it for my Baby Registry Checklist Series! I hope you see it for what it is… a loving collection of advice from a mom of three (soon-to-be FOUR!) who has already been there, done that. I hope you've gotten some helpful information and useful advice. If you have ANY questions about ANY thing in this series, please email me and ask. I love helping new moms in any way I can.
Also, remember that I am just one mom with one set of opinions. You experienced parents are WELCOME and ENCOURAGED to leave your opinions in the comment section, even and especially if they differ from mine.
Thank you, and God bless you and your growing family!
Lerin also blogs about her life as a Catholic wife and mother at Beautiful Chaos.